Recording studio/ Premises
Control room of the big studio
Two recording studios are at your disposal


Our air-conditioned studio (70 square meters) has a 35 square meter recording room with fully adjustable lighting, which is suitable for the dubbing of feature and documentary film formats, as well as ensemble recordings for radio plays.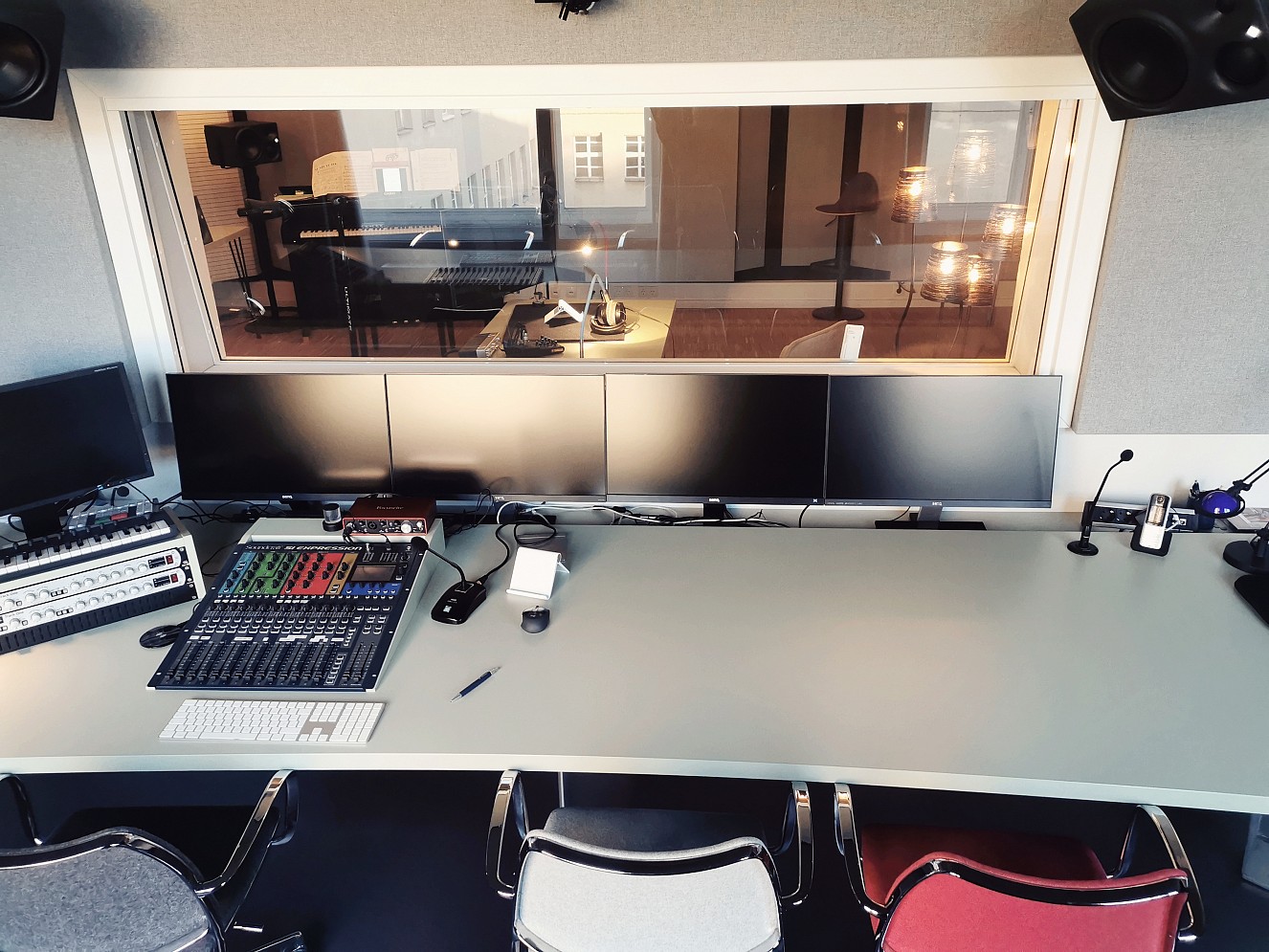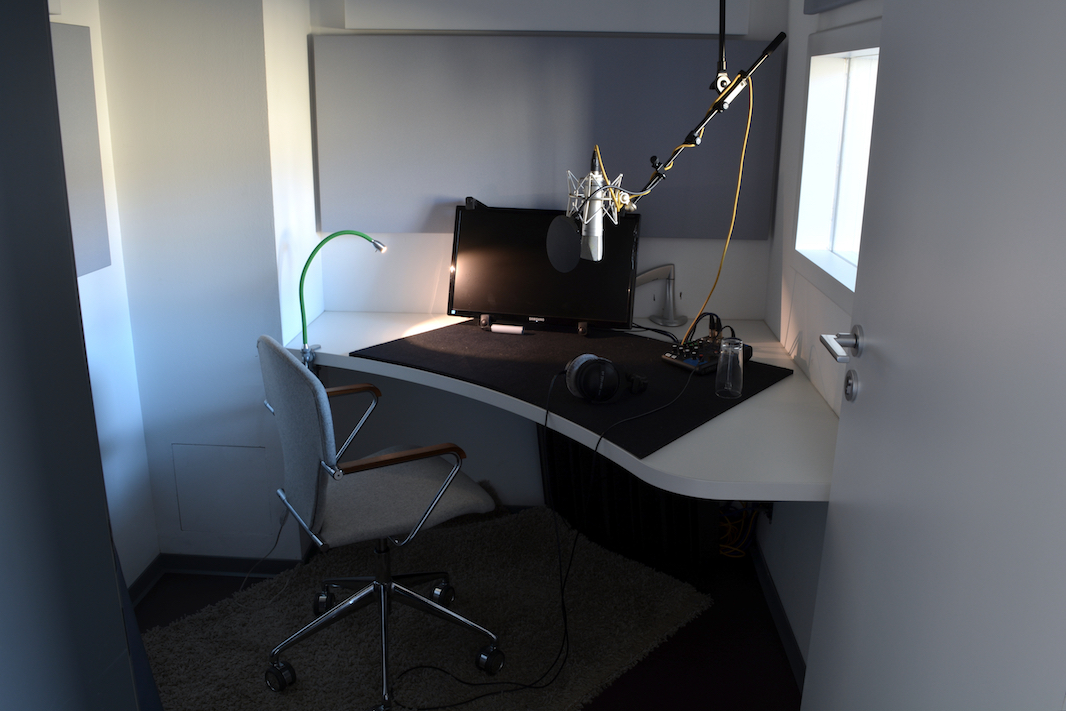 Audio booth of the small studio
In addition to the big studio, we offer a small but capable recording studio, ideal for voice-over recordings for documentary films and audio descriptions.
Both rooms comply with the current technical and acoustic standards.
We work with Pro Tools and Nuendo, in sync with the Eurotaker and the Nuendo Taker.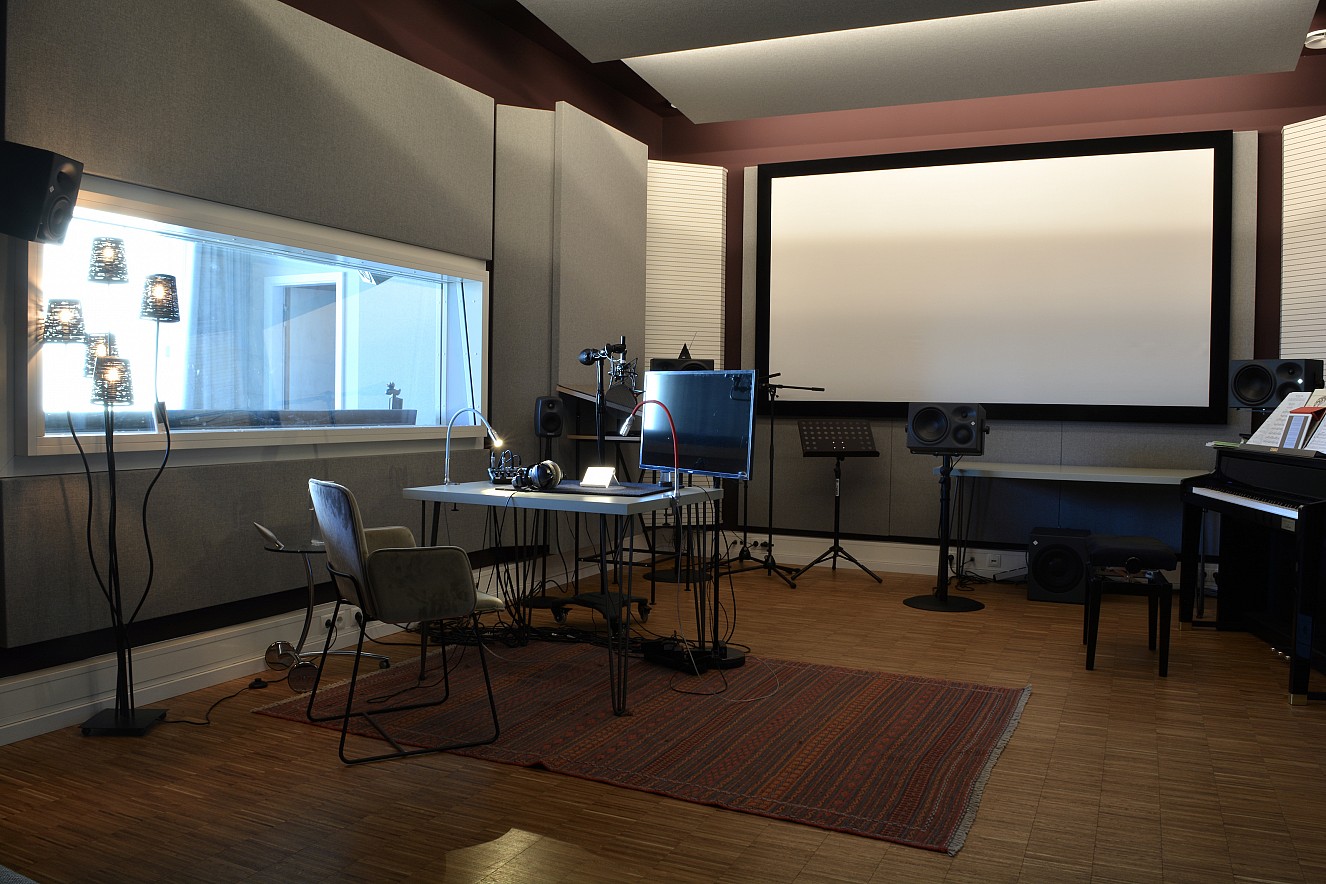 Recording room of the big studio
In the big studio, we have installed a movie screen to allow our actors the greatest possible freedom in their performance, enable the interaction of several actors, and also to provide the opportunity to view films in appropriate quality.
The room is technically designed so that mixes (5.1 and 2.0) can be carried out.


In addition, we have a editing room with Avid editing system.
Recording studio/ Equipment
STUDIO 1

Room size:

... 35 m2 recording room, 28 m2 control room (air-conditioned)


Monitors:
... Neumann KH 310A
Features:

... DAW: Apple Mac Pro with Protools HD, Steinberg Nuendo
... Mixer: Soundcraft SiEx1
... Mic Preamps: SPL Track One MkII (with Lundahl transmitters)
... Audio Interface: Avid MTRX
... Video HD / SD: all popular frame rates
... Microphones: Neumann U87, Schoeps CMIT
... Taker system: Eurocontroller, Nuendo-Taker
... Command System: Voxcom Pro Mix
... Room size: 35 m2, air conditioned
… Screen

Equipment:

… Monitors: Neumann KH 310A and KH 120A
... AVID S3 and docking station with Protools Control
... Protools HD and Steinberg NUENDO for playback and recording

Mixing formats:

... 2.0 and 5.1
STUDIO 2

Room size:

... 23 m2 / recording room, control room
Monitors:

... Genelec 8030


Equipment:

... DAW: Apple Mac Pro with Protools, Steinberg Nuendo
... Mixing console: Mackie 1402
... DAW controller: ICON QCON PROX
... Mic preamps: DBX 286S
... Audio interface: Avid MBox Pro
... Video HD / SD: All popular frame rates
... Microphones: Neumann U87
Our studios and editing room can be rented depending on availability.

Please make your request to:


Cornelia Hammelmann
email hidden; JavaScript is required

Ricarda Eck
email hidden; JavaScript is required


or to:
email hidden; JavaScript is required